You are accustomed to delivering exceptional face-to-face service. Now, as society becomes increasingly "digital" you are expected to offer the same quality experience online. This can be complicated by the need to run services outdoors or in unfamiliar locations.

With OneRoom Off-Site, we offer funeral professionals a turn-key streaming and recording solution wherever the funeral service is taking place - graveside, church or in the community. We look after your online guests while you remain focused on the service.

We provide the same assured experience to funeral directors and families for services held off-site as with our market-leading in-chapel solution - delivering an intuitive viewer experience with responsive customer support.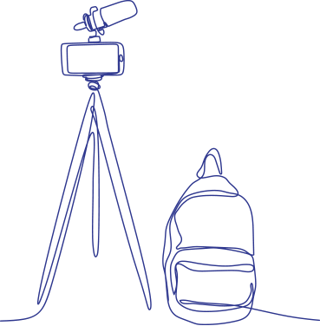 OneRoom Off-Site arrives ready-to-operate and includes:
Mobile device (5G capable), tripod and mount, microphone, external power bank and charging station, carry case and user guide,

OneRoom App, preloaded and linked to the OneRoom Platform,

Data connection.

Reliable Solution
Our monitored and managed service looks for problems before they happen. We're there when needed for you and your online guests. We keep a back-up recording on site, just in case.

High Quality
OneRoom is built-for-purpose with the family's experience top of mind. For 10+ years we have fixed problems, then adapted the platform to avoid them. We treat your reputation like it is our own.

Private and Secure
The family chooses who attends, by invitation or public link. Unlike multi-purpose social media platforms, OneRoom is a private channel, customized for your funeral home.
Flexible and Affordable
Our packaged equipment solutions cater for your needs - discrete, self-managed fixed cameras or ready-to-operate portable camera kit. Pay-as-you-go or prepay monthly.
Our Customers are Loyal and Passionate, Find out why
Over ten years, OneRoom has recorded and live streamed over a million funeral and memorial services. Each one is a moving and healing experience for the family and a reflection on the funeral professional that delivered it.
100% specialized in funeral streaming
Catering for 4,000+ viewers live
1M+ viewers each year
24/7 customer support
"OneRoom is a good, easy-to-use product, and it's turnkey. It helps to differentiate those funeral homes that are world-class."
"My biggest concern was relying on the internet to provide the full-service experience. OneRoom automatically records the service, which is then available for people to watch."
"I now have live-streamed many off-site services, setting them up on OneRoom and just pressing record when the service is about to begin."